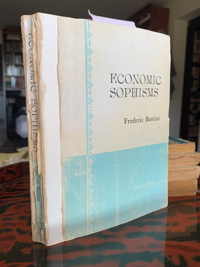 50 Years and Counting ...
This year is also the 50th anniversary of my discovery of classical liberal/libertarian ideas when I was still in high school here in Sydney. Here are 20 of those books. Several are pretty battered: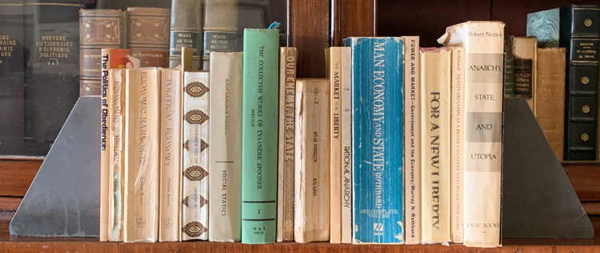 From left to right they are (with links to online versions where available): Etienne de la Boetie, The Discourse of Voluntary Servitude (1570s); Frédéric Bastiat, Economic Sophisms (1846-48); Frédéric Bastiat, Economic Harmonies (1851); Frédéric Bastiat, Selected Essays on Political Economy (1845-1850); Gustave de Molinari, "The Production of Security" (1849) in French and English; Gustave de Molinari, Les Soirées de la rue Sainte-Lazare (1849); Herbert Spencer, Social Statics (1851); Lysander Spooner, No Treason and Letter to Thomas Bayard (1870); Lysander Spooner, Collected Works; Albert Jay Nock, Our Enemy, the State (1935); Ayn Rand, Atlas Shrugged (1957); Morris and Linda Tannehill, The Market for Liberty (1970); Richard and Ernestine Perkins, Precondition for Peace and Prosperity: Rational Anarchy (1971); Murray N. Rothbard, Man, Economy, and State (1970); Murray N. Rothbard, Power and Market: Government and the Economy (1970); Murray N. Rothbard, For a New Liberty (1973); Murray N. Rothbard, "The Anatomy, of the State" (1965); Robert Nozick, Anarchy, State and Utopia (1974); the Workers Party. Platform (1975).
What are missing from this photo is Roy Childs, "An Open Letter to Ayn Rand: Objectivism and the State" (1969) (which I have lost in my travels), Ludwig von Mises, Socialism (1922, 1936, 1951) which I gave away at some point, and John Hospers Libertarianism: A Political Philosophy for Tomorrow (1971) which I sold when I moved countries..
I reflected on the successes and failures of the liberty movement over the past 50 years in this blog post: "The State of the Libertarian Movement after 50 Years (1970-2020): Some Observations" (25 March, 2021)